A fidget spinner is a type of toy which consists of a ball bearing in the center of a multi-lobed (typically two or three) flat structure made from metal or plastic designed to spin along its axis with very little effort. Fidget spinners became trending toys in 2017, although similar devices had been invented as early as 1993.
What's the purpose of a fidget spinner?
The toy has been promoted as helping people who have trouble focusing or those who may need to fidget to relieve nervous energy, anxiety, or psychological stress. There are claims that a fidget spinner can help calm down people who have anxiety and other neurological disorders like ADHD and autism. However, there is no scientific evidence that they are effective as a treatment for ADHD.
Which fidget spinners are the best?
1. Pure Brass Gear Fidget Spinner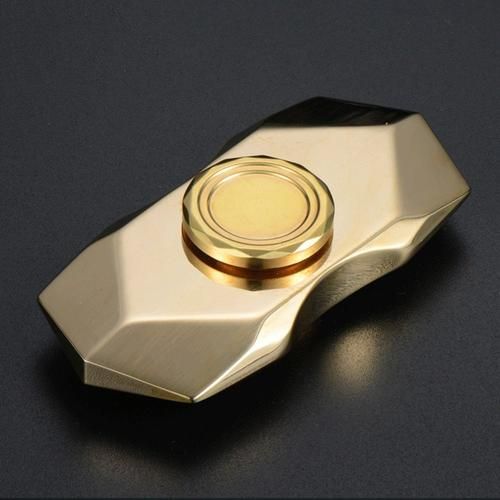 This little fidget spinner is heavier than it looks thanks to its brass construction. It's also endlessly entertaining, with a series of interlocking gears that all spin in different directions.
2. Kangaroo's Emoji Fidget Spinner
This Kangaroo's Emoji Fidget Spinner does just that. It's shaped like the notorious poop emoji, but the face makes up the center bearing of the fidget spinner. It's also very affordable right now at under $5, so you can grab a few for your family or roommates.
3. ATESSON Fidget Spinner Toy
This rainbow-hued ATESSON Fidget Spinner is constructed from ultra-durable stainless steel which gives a satisfying weight in your hand when spinning. As the lotus pattern spins, you'll see a beautiful swirl of color, especially when the light hits it. It remains quiet when it spins and can do so for up to five minutes, without making any noise.
4. Pure Compression Fidget Spinner
Evolved from the original design, the Pure Compression Fidget Spinner features a popping bubble in each tri-section. Each bubble can be popped up and down, adding an additional fidget fix to this toy. Both the frame and bubbles are made from durable materials.
5. Wizardry World Fidget Spinner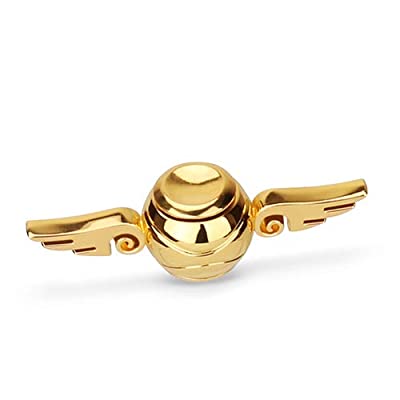 This spinner is (unofficially) modeled after a golden snitch which is the most important ball in Harry Potter's game of Quidditch. The wings are set on a self-lubricating bearing, allowing you to spin the game-winner for up to one minute with a single flick. It's made of a rainbow metal-alloy (sorry, not golden) and comes in a travel case for safekeeping.
What is the most expensive fidget toy?
Fidget spinner prices range from as low as $2 for a basic model to $1,000 for an LED light-embedded limited edition collectible. Russian jewelry specialists Caviar created the world's most expensive fidget spinner, which has a 100-gram, gold-coated exterior and a value of about $17,000.
What is the fastest fidget spinner?
It's likely that lots of people have given themselves this challenge, but a group of employees from Japan have taken it to the next level by attempting an official Guinness World Records title for the Longest duration spinning a fidget spinner on one finger.
In the end, Takayuki Ishikawa came out on top, managing to keep a specially-designed fidget toy turning for a staggering 24 min 46.34 sec – beating the previous record by almost 20 minutes.
Which is the smallest spinner?
A Fidget spinner using MinebeaMitsumi's ball bearing with 1.5mm outer diameter has been accredited as the world's smallest fidget spinner.
(Record title: Smallest fidget spinner, Accreditation date: 14 November 2017, Accredited size: 5.09mm
Production cooperation: YUKI Precision Co., Ltd.)
A ball bearing with a 1.5mm outer diameter manufactured by MinebeaMitsumi Inc. was recognized by GUINNESS WORLD RECORDS as the Smallest commercially available steel ball bearing on 28 August, 2015. This marks the second accreditation by GUINNESS WORLD RECORDS for MinebeaMitsumi.
Is it good for students?
Many kids don't pay attention during class when they spin the gadget under their desk. Fidget spinners are distracting, dangerous and most schools banned them. So I think other schools should too ban it.
First of all, fidget spinners should be banned from school because by these toys people get hurt. People do tricks with these toys. Some people actually broke their teeth by spinning a fidget spinner on their tooth. And I've also seen people bring the fidget near their eyes and the eyes didn't look good after that.
Regardless of their usefulness in keeping kids' distracted brains focused, fidget spinners have sparked a conversation about attention spans in kids and how to help the little ones focus, experts told Live Science. For instance, though there isn't a lot of data supporting the idea that kids have less focus today than in the past, some research does suggest attention spans have decreased as multitasking has increased with the digital age, one expert said. There are various methods for bringing kids' focus back to the lesson at hand.
Why are fidget spinners so addictive?
The vibration and momentum of fidget spinners gives a pleasing sensory experience, transferring and twirling the spinners makes them even more addicting. They are actually a distraction, and this goes for everyone. Who wouldn't want to look at a spinning toy instead of paying attention in class?